Lucky Coins are the premium currency in the game and the most difficult to get. 
How To Get Lucky Coin
Edit
You can purchase Lucky Coins for real money.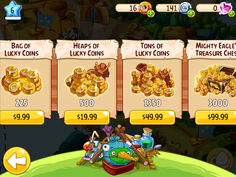 The game can be completed without spending any real money, since there are a few ways to receive free Lucky Coins.
You receive 3 Lucky Coins when you level up.
In versions ?-?, when you Complete the daily bonus to receive 1 to 7 Lucky Coins, plus 1 extra Lucky Coin if you login via Facebook.
In versions ?-? and ?-?, when you defeat the Golden Pig.
You sometimes get 3 to 6 Lucky Coins when you open chests throughout the game.
Use of Lucky Coins
Edit
Lucky Coins have several uses throughout the game. Lucky Coins can be used to:
Roll the Golden Pig Machine. You can either roll for 3 Lucky Coins, get a random item, and fill a little of the rainbow bar, or roll for 35 Lucky Coins, and roll 10 times and fill more of the rainbow bar.

In versions ?-?, rolling for 15 lucky coins was 20, and it was a single roll that gave you a higher chance to get a more powerful item.

"Rent" a Mercenary Bird from the Mighty Eagle for 15 Lucky Coins to complete Weekly Dungeons or Chronicle Cave levels.

You can also pay 10 lucky coins to wake up an friend's bird in Weekly Dungeons or Chronicle Cave levels.

Revive your birds for 15 Lucky Coins if you fail a level.
Buy classes for you birds, like the Paladin and Bard.
Upgrade the Cauldron and Anvil.
Buy the Golden Chili, Golden Anvil, and the Golden Cauldron
Buy potions, Experience Bottles, Mighty Eagle's Favorite Dish, Cleansing Potions, and Stamina Drinks.
Upgrade your Birds' Classes in the Mighty Eagle's Dojo.
Community content is available under
CC-BY-SA
unless otherwise noted.